---
Can you imagine doing 500 pushups when you are 75?

Meet Tripat Singh who has challenged and beaten young bodybuilders in doing so.
While we really think one should be resting and taking it easy once you start to age, this senior citizen is picking up heavy weights and smashing boundaries, quite literally.
A passionate fitness enthusiast, influencer and part-time coach, 75-year-old Tripat Singh from Chandigarh is all the proof you need that age, is, in fact, just a number. Ask him about the same and he doles out a humble reply saying he is still young and now basking in the love and respect from his new fanbase on Instagram.
Mr Singh came into limelight after Bollywood's power couple, Virat Kohli and Anushka Sharma shared posts of him breaking a sweat at the gym. Comedian and influencer, Mallika Dua is a fan too. Scoring 2 gold medals, 3 silvers and acing other championships, Singh is also a proactive marathon runner- all this while supporting vegan fitness.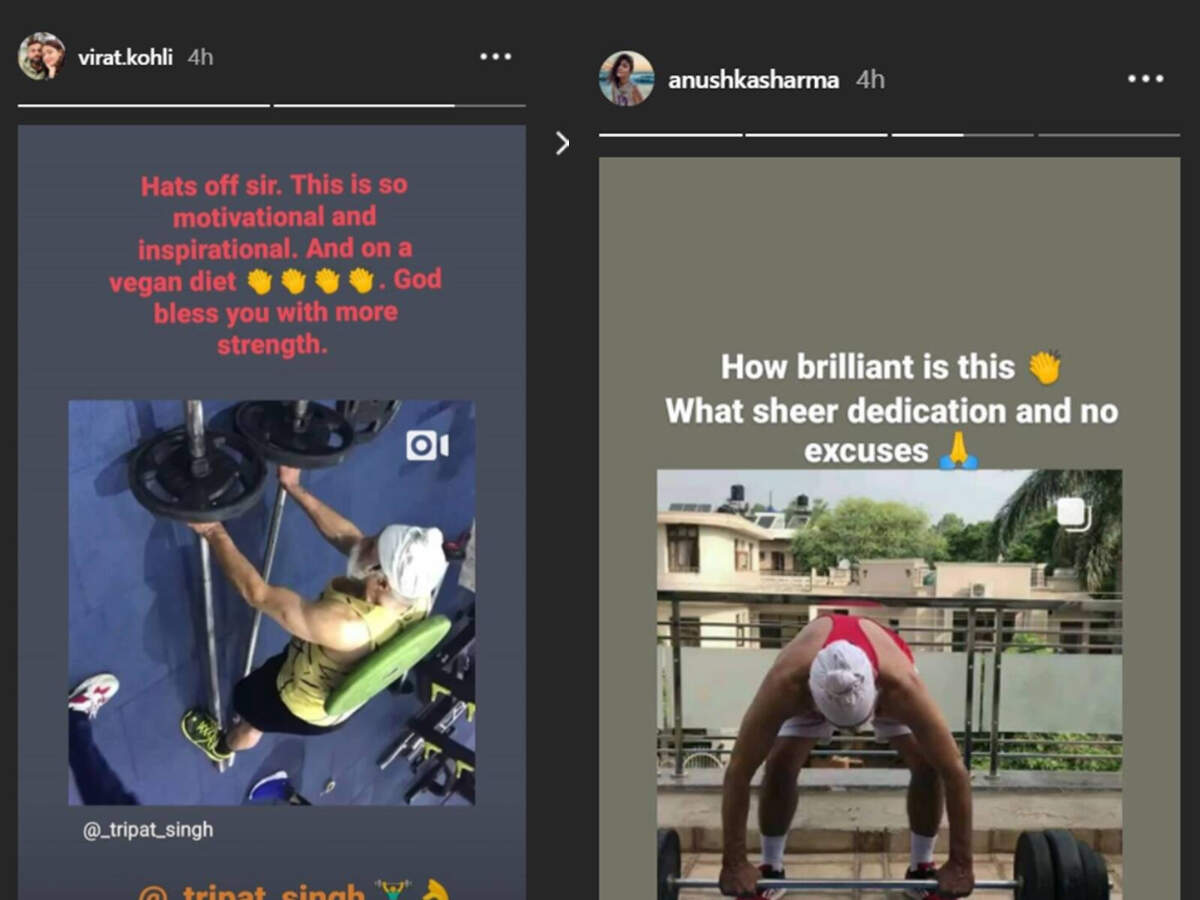 We talked to the septuagenarian fitness blogger, a shop owner by profession, who talked in detail about his fitness journey over the years. Here are some excerpts from the interview.
Why join a gym in 60s?
Mr Singh might have been passionate about fitness since years now but it was only in 2013 he joined a gym. "My father was a diabetic and my wife, herself, suffered from heart complications. It felt like I knew I had to be fit and healthy since the start. In the 60s, I started spending time in akhadas-Punjab has so many. It was there that I realized my passion and dabbled with fitness here and there, between family and work."
However, the switch to the gym only happened when Mr Singh went through a battle with weight gain-which a lot of us go through. He realized he wasn't his fittest and entered a gym, which he is now a brand ambassador of. He has happily participated in many challenges there and amazed by the zest he brings in; the owners charge him no fees.
Being fit, no excuses
Mr Singh credits his brush with fitness from a young age for his fitness and agility at 75. "Fitness has helped me stay flexible and gave me all this strength to work through. There was a point, my body felt like it was made of steel." He also says that mental endurance, which he learned from his late wife also powered him through the tough days, especially after she passed away in 1999. It was only after that he packed shop, shifted to Chandigarh and ran in a special senior citizen race, which was for 1600m. Once he was able to power through, he went on to achieve bigger goals and accomplishments- half marathons, full marathons and even special altitude races.
The social media celebrity now participates in the general category and takes up every challenge, sportingly.
Why go vegan?
One of the many things that connect Virat Kohli and Tripat Singh is that they both follow a vegan lifestyle. While the 75-year-old was a staunch vegetarian since the start, switching from dairy and poultry was a bit challenging, but he has no complaints. "I watched this documentary on the internet…and I couldn't drink milk again."
Mr Singh also believes that veganism does not devoid you of nutrients. The same holds true for desi khana, according to him. Vegan fitness is what he likes in Kohli and his wife, Anushka too, who he believes follow an admirable lifestyle.
"Our ancestors have been eating local, harvested grains. Look how the West is talking of ghee now. The foods we have grown up eating- from the typical rajma chawal to the vegetables, they are all good for you. In fact, when initially, I did take protein shakes and eggs, I didn't feel good at all."
Now, the record holder tries to experiment with his own meals and keeps a cautious eye over his nutrient profile. "Veganism doesn't miss out on any needed nutrients. You just have to play smart."

What is his daily routine like?
Mr Singh wakes up at 5 a.m. every morning and works out for 2 hours, six days a week. While he prefers to have his own custom made pre-workout meal (which comprises of nuts, seeds, quinoa, foxnuts amongst others), he eats regular, ghar ka khana other times. Bananas are also one of his favourite fruits. "It's cheap, power-packed and just eating two of them can give you so much energy, so much better than the steroids, he quickly says." He also confessed his love for south Indian food with us.
He follows a combined workout, which is a mix of strength and compound training, concentrating on a different body part each day. Followed by the gym, he goes to the shop and now, occasionally, offers free consultations to his fans on social media. He diligently follows up with them as well, on Instagram, which his granddaughter helped set up.
"Don't stop working on your body"
The senior fitness blogger signs off saying that it's never late to start working on oneself. "Mind is the most powerful thing you have. Who says you can't pick up weights after an age? If you are willing and disciplined, nothing can stop you. Set small targets and with time, you will get there."

Planks to lifting weights: This 75-year-old vegan fitness influencer is your newest inspiration!